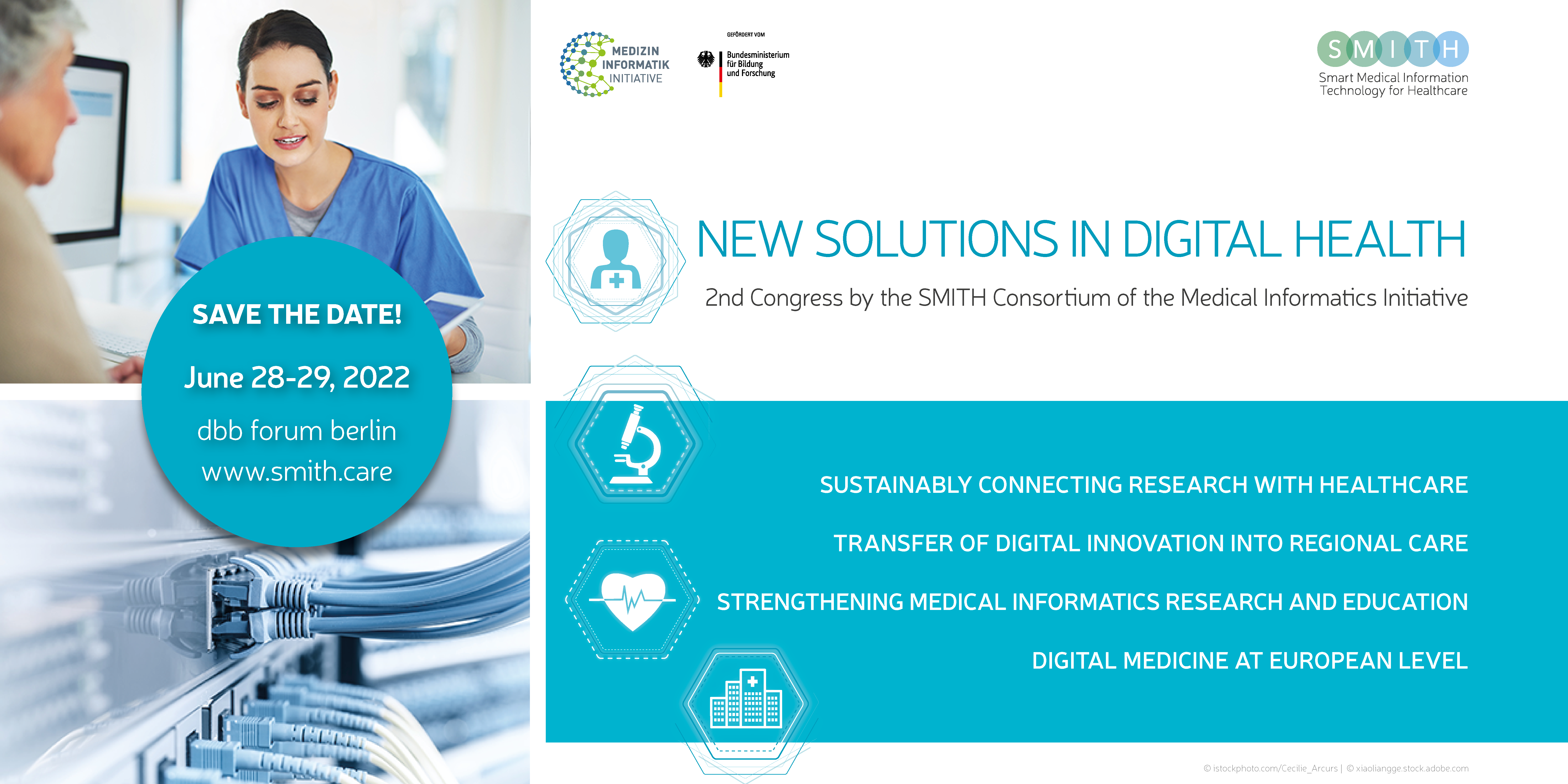 Save the Date: SMITH Congress 2022 | June 28-29, 2022 at dbb forum berlin
With the motto "New Horizons in Digital Health" the first congress of the SMITH Consortium met in Berlin September 2019. Since then, the coronavirus pandemic has greatly advanced and accelerated digitalization in healthcare. In this context, the Medical Informatics Initiative (MII) has taken on new significance. By establishing digital infrastructures for cross-site networking of research and care, SMITH, as one of four consortia in the initiative, is contributing considerably in strengthening digitalization in medicine.
The second SMITH Congress in 2022 will therefore be held under the slogan "New Solutions in Digital Health". In addition to the presentation of the consortial results achieved during the establishment and networking phase of the Medical Informatics Initiative, national and European developments will also be demonstrated. Among other topics, the transfer of digital innovations into regional care will be addressed using the example of the "Digital Hubs: Advances in Research and Health Care" funded by the Federal Ministry of Education and Research. But also the progress and challenges in education of medical informatics will be a focus of the event with the new professorships and junior research groups in SMITH. The opportunities of digitalization in medicine will be the focus of all topics in order to link research and care in the best possible and sustainable way.
The main topics of the SMITH Congress 2022 at a glance:
Sustainably connecting research with healthcare
Transfer of digital innovation into regional care
Strengthening medical informatics research and education
Digital medicine at European level
For more information about the event, please visit our website.
Free registration is scheduled to open in April 2022.
We are looking forward to welcoming you to the SMITH Congress 2022 in Berlin!