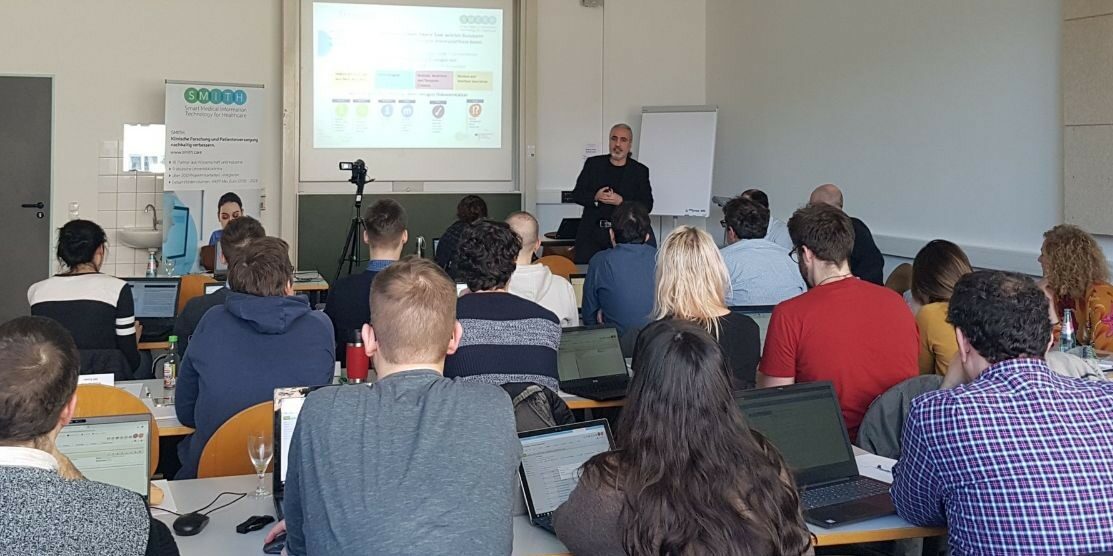 SMITH Consortium hosts three-day FHIR Workshop
Standardized Evaluation of Healthcare Data
In July 2019, the Medical Informatics Initiative (MII) decided to use the international HL7 standard FHIR to implement the core data set of the MII. The uniform format simplifies exchanging data between healthcare software systems and provides uniform data for medical research.

The SMITH Consortium conducted a MII workshop on February 11th to 13th, 2020, at the University Hospital Jena to introduce FHIR and how it can be used. Scientific and industrial specialists shared their knowledge with 25 participants concerning the technical and organisational requirements to exchange data with other institutions.

Dr. Danny Ammon, Director of the Data Integration Center (DIC) of the University Hospital Jena, introduced the interoperability standards in healthcare and why it is needed and the implementation, development, and profiling of these standards. Next, Dr. Frank Meineke and Sebastian Stäubert of the Institute for Medical Informatics, Statistics and Epidemiology of the University Leipzig elucidated the phases of a Data Use Project (DUP) and the development of a clinical question to a completed analysis.

In a later training session, Dr. Kutaiba Saleh of the University Hospital Jena illustrated how to use the software ART-DECOR to prepare data and use it in DUPs. Simone Heckmann of Gefyra GmbH introduced the HL7 and FHIR in the next session. Here the topics covered were the terminology and application of the specification, resources, profiling and the implementation of interoperability in healthcare. Finally, Prof. Dr. Cord Spreckelsen of the Institute of Medical Statistics, Computer and Data Sciences (IMSID) of UKJ, Julia Gantner (IMSID) and Thomas Nitzsche (InterSystems GmbH) demonstrated using SQL databases to extract data, the analysis of statistic data and the use of analysis functions respectively. The working group Teaching of the SMITH Consortium organized this workshop.