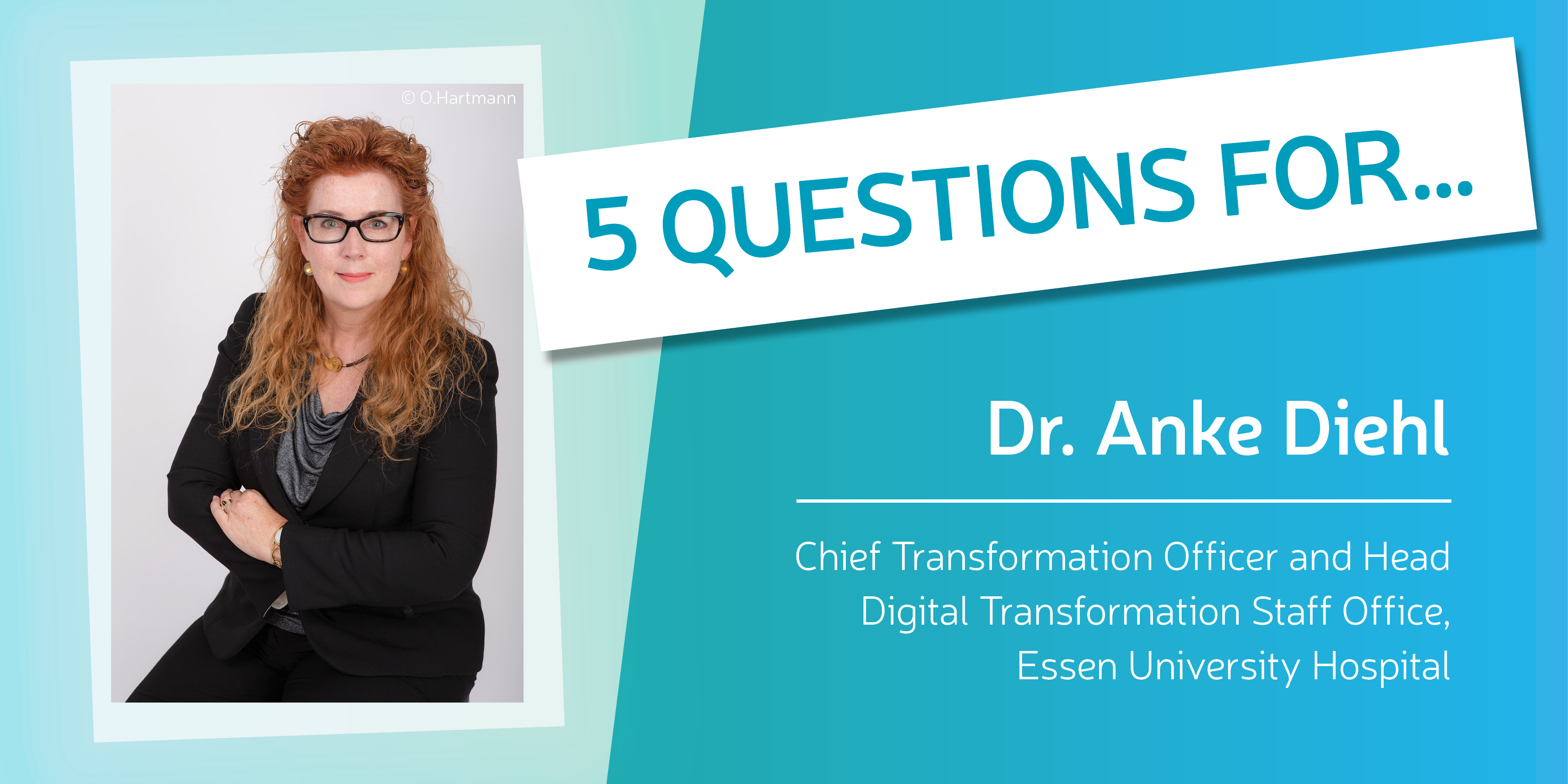 On International Women's Day – Why diversity and equality are also important for medical informatics | 5 Questions for… Dr. Anke Diehl
Dr. med. Anke Diehl is Head of Digital Transformation and Chief Transformation Officer at the Essen University Hospital (UME), one of the 19 partners in the SMITH Consortium. She is particularly committed to digitization in medical care and was recently honored with the German Medical Award as "Medical Woman of the Year 2021". Among other things, Dr. Diehl is committed to improving patient care by means of artificial intelligence and is playing a key role in driving forward the topic of "Smart Hospital". Since the end of last year, she has also been a member of the national expert committee for interoperability, the Interop Council.
We spoke with Dr. Anke Diehl on the occasion of International Women's Day.
The motto of this year's International Women's Day is "Break the Bias". What does this mean in the field you are working in?
In medicine, and especially in digitization in medicine, various types of bias play a major role. Gender is certainly one of the most important examples: Medically alone, there are significant differences between the biological sexes, which can cause drugs to work differently, for example. However, this is not yet sufficiently taken into account in clinical studies. But also on the side of the developers of digital medicine or artificial intelligence (AI), there is a great imbalance in favor of male developers. Of course, this can also lead to a bias, and it is very important to detect this or prevent it from arising in the first place.
So we need more women and more diversity in medical informatics professions?
Yes, exactly – diversity plays an important role not only in avoiding bias in digital medicine. It is very important to consider diversity in all its forms consciously and at an early stage, especially when developing technical solutions. Interdisciplinary work at eye level, the integration of different perspectives, and solution-oriented discussions require certain soft skills. According to studies from sociological and psychological research, women definitely have an advantage here. Here, people working in medicine and medical informatics can also learn from other examples of digital transformation and the corresponding Work Skills 4.0. The "Collective Genius" requires diversity and more women in digital medicine.
What are you actively doing to advance the issues of diversity, collective genius, and bias avoidance specifically in digital medicine?
On the one hand, it is important to me to draw attention to these issues at the highest level. For example, I recently formulated an open letter to the German Federal Ministries of Health and Education and Research, together with excellent peer reviewers, pointing out the importance of gender-diverse health research at national level. On the other hand, it is an important topic especially for education. In the elective Gender Medicine, for example, I give a lecture on digitalization and AI, and we are currently planning a series of workshops on the topic. This goes down very well with the young scientists – they feel directly addressed. Finally, we also need to create the right role models and publicize this. For example, 4 out of 7 members of the Interop Council – including its head – are women.
What advice would you give to young talents?
The era of digitization and the use of intelligent systems in medicine has only just begun, so there is still incredible potential to get involved. Young scientists and young talents have great opportunities at the interface between medicine, psychology, computer science, and mathematics to get involved and actively make a difference, not only in theory, but also in medical care practice! There are so many great projects and initiatives that combine digitalization, medical informatics, AI with patient care. This is exciting, very satisfying and an absolutely crisis-proof, future-proof working environment with potential for innovation.
Please finish the following sentence: Participation in the SMITH Consortium of the Medical Informatics Initiative is important to me because…
interoperability is one of the key issues in the digitization in medicine and in the topic of smart hospitals in general.